COVID-19 Guide for Workers in Illinois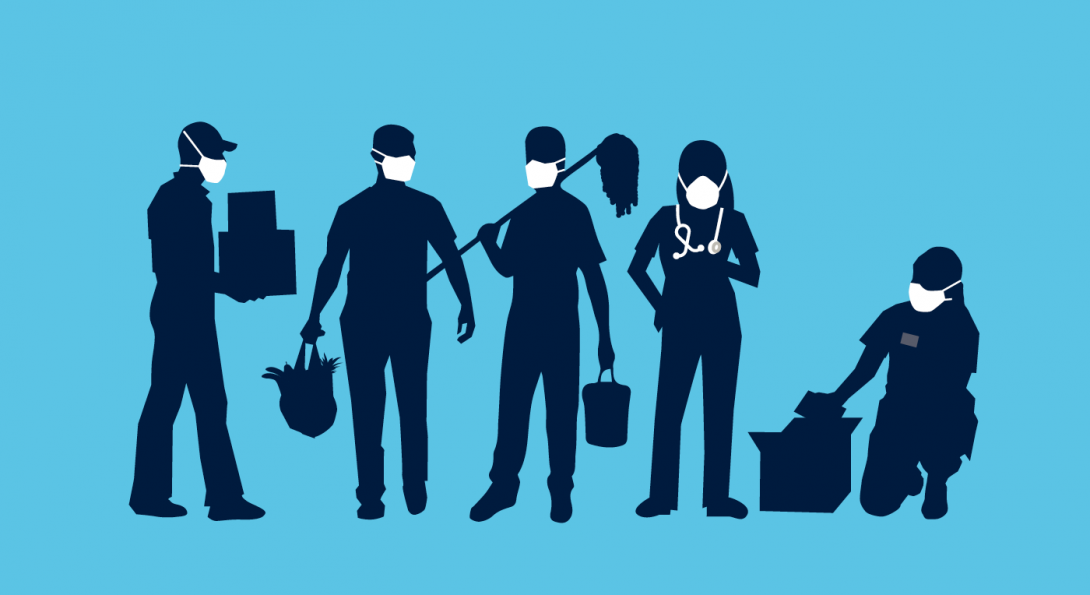 Pandemic COVID-19 presents an unprecedented challenge that validates that worker health is public health. The UIC Center for Healthy Work, Great Lakes Center for Occupational Health and Safety and the Policy, Practice and Prevention Research Center, which authored this report, share a deep commitment to providing resources and information to workers, employers, worker advocacy organizations, and their allies across Illinois to ensure the safety and health of workers, their families and communities.
The primary recommendation to prevent the spread of COVID-19 is social distancing; which includes encouraging employers to allow their employees to work remotely. While many workers and their families have been able to shelter at home, continue to work, maintain their income, and protect themselves and their families, a significant number of workers do not have the ability to work remotely due to the nature of their work. Many of these workers are already economically disadvantaged and many are employed outside of traditional safety net protections; they are therefore unprepared to manage COVID-related health impacts on themselves and their families. More fundamentally, these workers are also less likely to have access to traditional sources of protection, such as health insurance, paid sick leave, and unemployment insurance, because of fractured employer relationships and labor misclassification.
Workers who are at increased risk to contract COVID-19 include front-line and essential workers such as healthcare providers, hospital cleaning and cafeteria staff, long-term care facility staff, first responders (EMTs, police, fire), pharmacists, delivery drivers, warehouse and assembly line workers, food service and grocery workers, utility workers, and transportation workers (city bus drivers, train conductors, app-based rideshare drivers). Additionally, due to non-standard employment arrangements or their employment sector, certain workers are incredibly vulnerable to unsafe working conditions or unstable employment throughout the crisis. Those workers who are most vulnerable include temp workers, 1099's/independent contractors, app-based gig workers, warehouse and assembly line workers, undocumented workers, food service and night life workers (restaurant workers, bartenders), retail workers, those who work in the informal economy (day laborers, street vendors, home daycare providers), small businesses, and those who work in social service settings (home-care, childcare, domestic work, healthcare support workers). Due to the nature of their jobs; precarious, unhealthy, unstable, with irregular hours or hourly pay, without sufficient health insurance, or access to consistent healthcare, and/or the inability to speak freely to an employer or lack of clarity around who the employer of record is, these workers face increased vulnerability.
The state and federal governments have created and expanded programs to limit the financial impact of COVID-19 and provide relief to workers and their families. In this guide, you will find information on the programs available to those impacted by the COVID-19 pandemic. This guide intends to provide the latest information on current federal and state of Illinois benefits to workers.
This guide was developed at the University of Illinois at Chicago (UIC) School of Public Health by three of its centers.
The UIC Center for Healthy Work is a research and education center established in 2016 to advance the health and well-being of workers in Chicago, the state of Illinois, and the nation. It is one of six Centers of Excellence for Total Worker Health®, funded by the National Institute for Occupational Safety and Health. The Center's mission is to remove barriers that impact the health of low wage workers in the increasingly contingent workforce.
The Great Lakes Center for Occupational Health and Safety is a recognized leader in the national movement to promote healthier workplaces and workers. The Center is one of 18 Education and Research Centers funded by the National Institute for Occupational Safety and Health. Its ambition is to improve, promote, and maintain the health of workers and communities.
The Policy, Practice and Prevention Research Center (P3RC) is one of 26 academic research institutions nationwide designated as a Prevention Research Center by the Centers for Disease Control and Prevention to work with vulnerable communities on new ways to promote health and prevent disease. The P3RC builds and translates evidence and strengthens leadership capacity to advance policies and practices that improve population health and equity.
Modified on May 21, 2020