Community-Engaged Work Defines Student's SPH Years
Story text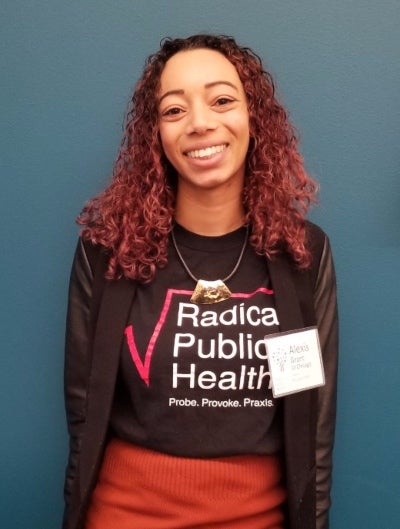 As a PhD in Community Health Sciences student and community engagement fellow, Alexis Grant helped lead the launch of SPH's Collaboratory for Health Justice, dedicated to building reciprocal engagement between the community and UIC faculty, students and staff. As a student, she has taken a lead role in building spaces for Black graduate students as the co-founder and president of the UIC Black Graduate Student Association.
"The traditional academic structure doesn't always have that much wiggle room for community engagement," Grant said. "It's not individual people or what they believe, it's the systems of the way we do things that we need to structure to do community engagement."
Since the murder of George Floyd and subsequent protests, Grant has joined with students across UIC in articulating how the university should be responding. She co-authored a letter to university leadership calling for divestment in the university's relationship with police departments and investment in scholarship and community inclusive of people of color.
On July 6, Grant took part in a UIC E+W Mixer Series event bringing to the fore student perspectives on the murder of George Floyd, systemic racism and UIC's place in these spaces. In her presentation, she argued diversity and inclusion are often used interchangeably at UIC, an institution can have representation of diverse groups but may not have an inclusive social climate. She offered four strategies for building an inclusive environment: explicitly explaining why race is relevant to research and teaching, course content that recognizes the contributions of Black scholars and the failings of academia in the past, diverse faculty and staff who specialize in a breadth of topics and valuing personal experience in the classroom.
"I wanted to highlight that changes need to be made at all levels: individual, program, departmental, college and all the way up to the administration and system," Grant said. "I wanted to highlight the opportunities that faculty members have, as instructors and leaders in research, to be anti-racist."
Grant has also led efforts with the Collaboratory to strengthen intentional, explicit anti-racist praxis in public health. She helped author a guide for anti-racist advocacy and praxis, which offered strategies for open discussion of racism, political engagement and advocacy groups to connect with.
"So much of the time, we talk about health equity, but we don't really put it into practice," Grant said. "We wanted to give a starting point for folks who wanted to do something but didn't know where to start and make an explicit stance that the Collaboratory is invested in this antiracist work."
Modified on October 15, 2020