Alumnus Serves as VA Presidential Management Fellow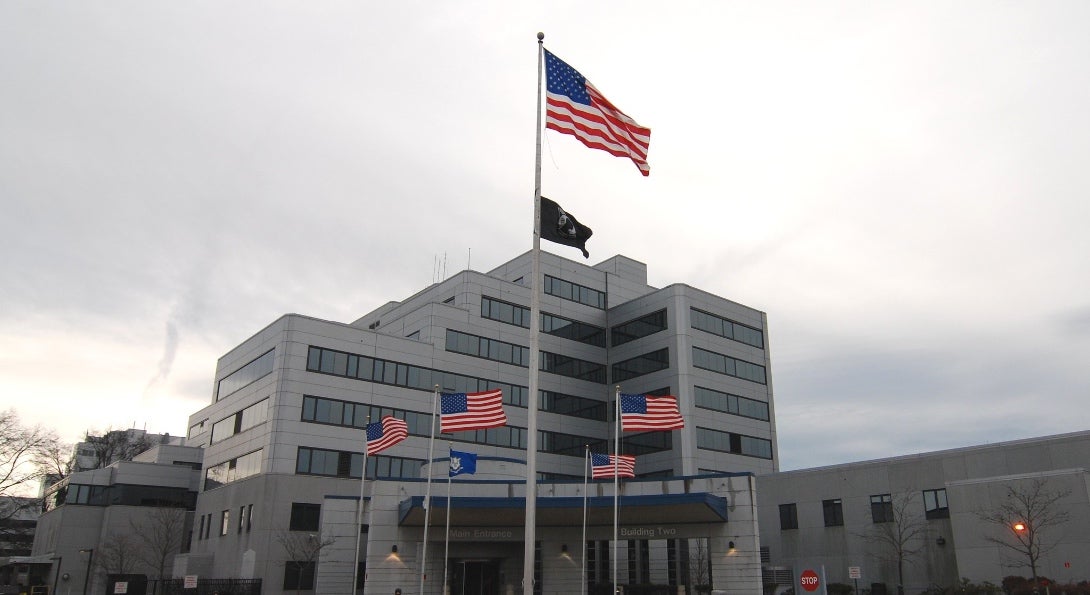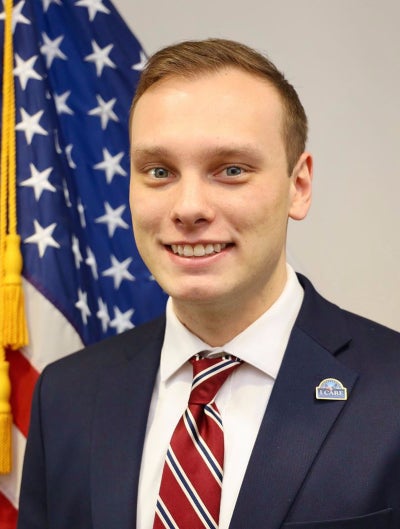 As a Presidential Management Fellow with the U.S. Department of Veterans Affairs (VA), Steven Chrzas, BA in Public Health '16, MPH in Health Policy and Administration '18, joins a diverse cohort of recent grads bringing fresh leadership to the Federal Government.
"Even though my role isn't explicitly health equity oriented, I'm still asking, is this policy equitable?  What's the impact it will have on our veterans?" Chrzas said. "In the real world, you're not just away in some tower working within the Director's office, you're bringing in people from all over the organization. You're collaborating with quality management, medicine, primary care, people from the lab. It's never just one perspective."
The fellowship is the U.S. Office of Personnel Management's flagship leadership development program and is intended to recruit and retain civilian talent for leadership across the Federal Government. Chrzas is wrapping up two years as a fellow, working with senior leadership within the VA in preparation for an early career position with the agency. In September 2020, Chrzas will begin work as the Health Systems Specialist (EA) to the Associate Director for Patient Care & Nursing Services (ADPCNS) with the VA Connecticut Healthcare System, where he is currently completing a 6-month developmental rotation.
He began his fellowship in Boston with the VA New England Healthcare System (VISN 1), working as a Health Systems Specialist for the Chief Medical Officer. The focus of his work being the development and implementation of a Social Determinants of Health (SDOH) screening tool and resource referral program. Known as ACORN (Assessing Circumstances, Offering Resources for Needs), the program has been piloted at three VA facilities within Massachusetts, and with support from the VHA Office of Health Equity hopes to expand further within the VA System.
The screening tool is administered via iPad at the point of check-in and assess a veteran's potential need(s) across nine domains (food security, housing, utilities, transportation, legal needs, social isolation, interpersonal violence, employment and education). When a potential need is identified the clinical staff provide the veteran with a one-page resource guide featuring location specific resources that are a mixture of community and VA services. All responses are saved as part of the veteran's electronic health record and provide staff with an enhanced understanding of their patient's health and wellbeing.
"If we're going to hand veterans a guide on where to seek help, we need to avoid sending them on a wild goose chase," Chrzas said. "This isn't the perfect mechanism, but it is a low resource method for systematically screening Veterans for their social needs."
While working for the chief medical officer, Chrzas' other projects included the opportunity to rewrite the VISN's inter-facility transfer policy, which governs inpatient flow across the VA system in New England, and leadership of a Lean Six Sigma process improvement initiative aimed at increasing Veteran utilization of secure messaging within the VA's My HealtheVet platform.
Since the start of the COVID-19 pandemic, his responsibilities have completely shifted. With the VA Connecticut Healthcare System in West Haven, he provided administrative support in the establishment of an incident command center to build the system's response to the pandemic.  More recently, Chrzas has served as project manager for an interdisciplinary workgroup charged with the resumption of elective surgeries and other invasive procedures within the system.  He presented the restart plan to executive leadership on June 19th, and with their approval moved forward towards the July 1st target date.
I bring a specific lens to this population that I truly gained from the School of Public Health.  It's a dangerous assumption to think all our veterans can access a drive through clinic, as not everyone has a car. You have to be asking, can someone bring them down? What are our options for [COVID] testing? How does social work get involved?

BA in Public Health '16, MPH in Health Policy and Administration '18

|
In his new role starting in September, he will be serving as the executive administrative assistant to the system's Nurse Executive. In this role he will be functioning as the executive officer in the management of all services reporting up to the Nurse Executive, including assessment of current operations and participating in the development of new programs and policies. These services include nursing, pharmacy, sterile processing and clinical engineering.
Chrzas credits his time at the School of Public Health with building skills that have prepared him for his multi-faceted roles with the VA.  He references student leadership opportunities as a delegate to the SPH Committee on Educational Programs, immersive strategic planning projects within the MPH in Health Policy and Administration curriculum, and his graduate practicum as key points in preparing him to navigate a complex organization.
"Having the opportunity to learn from and TA for Dr. Linda Rae Murray (faculty in the undergraduate program) shaped the way I view systems within the world," Chrzas said. "Anyone can become a subject matter expert and gain technical knowledge, but the focus on critical thinking and other analytic skills at SPH have really carried me a long way."