Alumnus career in environmental health sparks student support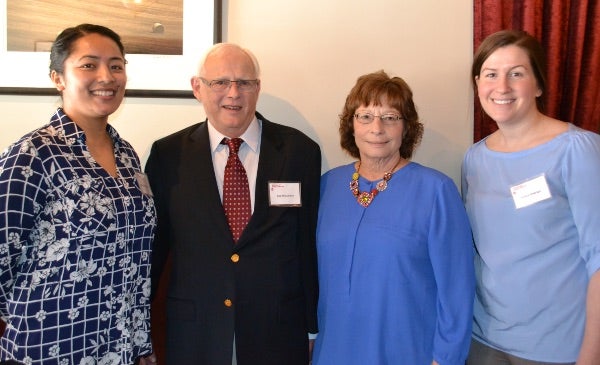 Rod Musselman's career in public health started in the steel mills of Gary, Indiana.  As a community organizer, he brought to Hammond, IN Dr. Bertram W. Carnow to speak with steelworkers employed in positions with high rates of lung cancer. After the meeting and while driving Dr. Carnow home he asked Rod what he wanted to do with his life and that a School of Public Health had just started in Chicago. Rod immediately applied and was accepted.
After earning his master's degree in 1974 and a DrPH in 1982 at the School of Public Health, Musselman completed a post-doctoral fellowship at the U of I Medical School.  He then was hired by occupational and environmental health and engineering companies. In 1988 he became the toxicologist for the United States Gypsum Company (now USG Inc.) where he worked to help remove the carcinogenic warning label from the glass, rock and slag wool insulation products in the US and worldwide. That meant that USG Inc. was not forced to close its slag wool fiber manufacturing plants and lay off 2,500 workers.
In 1998, Dr. Musselman formed his own company (RP Musselman, Inc) and continues to consult for USG and the US and European synthetic vitreous fiber (SVF) trade organizations.
Musselman is also the co-founder of the Lead Abatement Resource Center, a non-profit using novel techniques to remediate lead in soil in vacant lots in Chicago.  The non-profit acquires crushed fish bones from a commercial fishery in Alaska and spreads the bones into the soil of vacant lots.  The bones act like a catalytic converter that purifies exhaust from cars; fish bones link and trap soluble lead and other metals and make them insoluble if a child consumes these metals.
"The lead health epidemic is a forgotten one, and it's so unfortunate and so wrong that we still have this problem," Musselman said. "Our efforts hopefully will inspire private and public organizations to help extend our activities."
Today, Musselman seeks to give back to SPH students, acknowledging his own preparation for public health leadership.  He established a travel scholarship in 2010 that funds students' attendance at conferences like the American Public Health Association annual meetings, so that students can experience the full breadth of public health opportunities. Over the past decade, his scholarship has helped more than twenty students. Maddie Demo, a joint MPH/MBA alumna from the Class of 2022, used the travel award to further develop expertise in sustainability through the Center for Sustainability and Excellence's Certified Sustainability Practitioner Program – Leadership Edition.
"Receiving the Rodney P. Musselman award to pursue credentialing means that SPH and its donors recognize the role and value of environmental, social, and governance initiatives in improving public health and sustainability – within communities and industry," Demo said. "I am grateful for and humbled by Dr. Musselman's support and look forward to advancing worker and workforce health throughout my career."
"Public health is right front and center, as far as I'm concerned," Musselman said. "We have a pandemic, we have climate change, we have more human migration than in recorded history. It's so important for students to see the expanse of public health."
Modified on June 07, 2022