Alumni Leading Infectious Disease Control at Johns Hopkins Hospital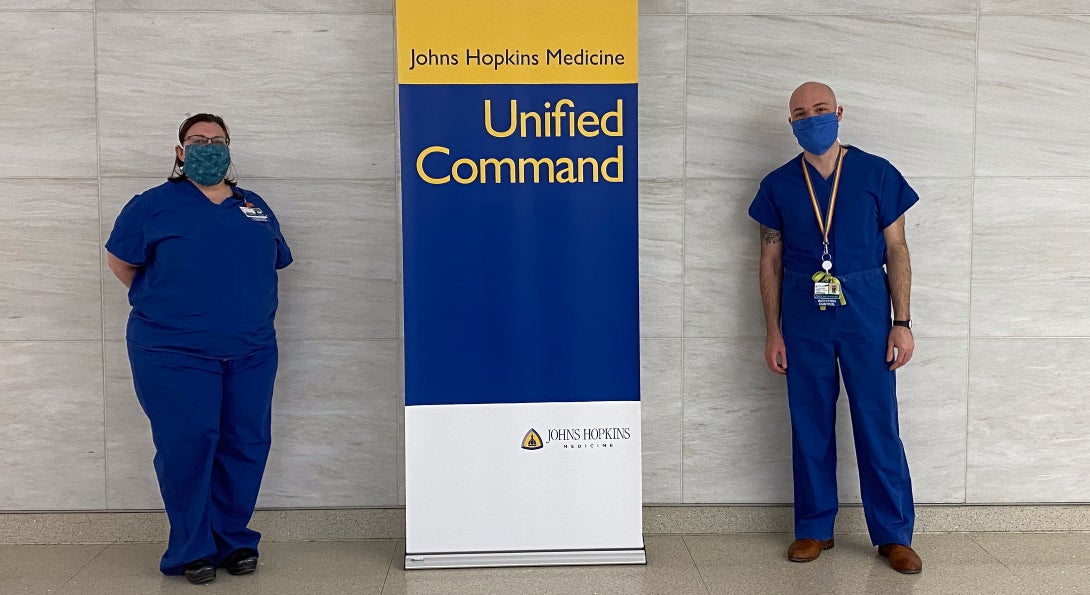 Frankie Catalfumo, MPH in Community Health Sciences '14, and Kimberly Weems, MPH in Epidemiology '16, never had the chance to meet while pursuing their MPH degrees at the University of Illinois Chicago (UIC) School of Public Health.  Now, they are working together closely on the frontlines to help keep patients, clinicians and hospital staff safe during the COVID-19 pandemic. Working as infection control epidemiologists at Johns Hopkins Hospital, Catalfumo and Weems are incorporating the latest data and practices to keep ahead of the curve and share critical lifesaving information.
Their work has changed drastically since the pandemic, molding new approaches to keep patients, themselves and everyone else safe. Catalfumo and Weems have helped to develop and implement a variety of infection prevention and control practices across the hospital including donning and doffing sequences of personal protection equipment, transport routes for COVID-19 patients to minimize staff and patient interactions and developing isolation wards with appropriate safety protocols.
"We have to work in partnership with everyone at the hospital, from the front desk clerk to the ER doctors, to ensure understanding of the protocols we are providing," says Weems. "Anytime there is a question, everyone looks to our team."
While in courses at SPH, both Catalfumo and Weems learned about the worst-case scenarios of infectious disease pandemics and are thankful for the solid education they received as their jobs take center stage.
Selected Quote
I am reminded of a quote I heard before the pandemic: 'You will never know if we overreacted but you will always know if we underreact.' This quote is really resonating because epidemiologists frequently work behind the scenes, and if an outbreak doesn't become very notable, that's because they were able to intervene.

Infection control epidemiologist, Johns Hopkins Hospital

|
Story text, continued.
Catalfumo and Weems were both drawn to pursue a career in public health because of real world experiences in their high school and undergraduate years, as both worked on addressing smaller outbreaks. This brought them to UIC to pursue their MPH with a focus in epidemiology.
During his studies, Catalfumo worked with the Skokie Health Department engaged in emergency management and infectious disease work.
"Choosing UIC was easy, as I knew I would be able to gain more opportunities and experiences because Chicago is part of the classroom," Catalfumo said.  "The networks I created while at UIC have helped me throughout my career, as I have been able to connect with so many alumni who have helped open new doors for me."
During her time at SPH, Weems worked with Dr. Mark Dworkin, professor of epidemiology and biostatistics, on her capstone and worked with the Winnebago Health Department in Rockford, Ill. on a Shigellosis outbreak.
Both credit the excellent education they received as preparation to tackle all the new challenges they face daily during the epidemic.
"So much of the information I learned is not just an exercise anymore, it's a real-world example," Weems said.
Catalfumo and Weems hope to host future UIC SPH students at Johns Hopkins Hospital for their field practicum experience and have some advice for new professionals joining the public health workforce. Weems thought she would only ever want to work for a health department, and noted to current students "don't be afraid to get outside of your comfort zone, I never thought I would be doing infectious disease epi, and here I am today and loving it." Catalfumo encourages public health students to look at hospital epidemiology careers because "hospitals are going to need more people like us."
Send us your story
UIC SPH is so proud of the incredible alumni, like Catalfumo and Weems, who are working on the frontlines addressing the COVID-19 pandemic.  If you would like to share your work, please submit your alumni story here.
Modified on May 19, 2020