Alumna Receives UIC Achievement Award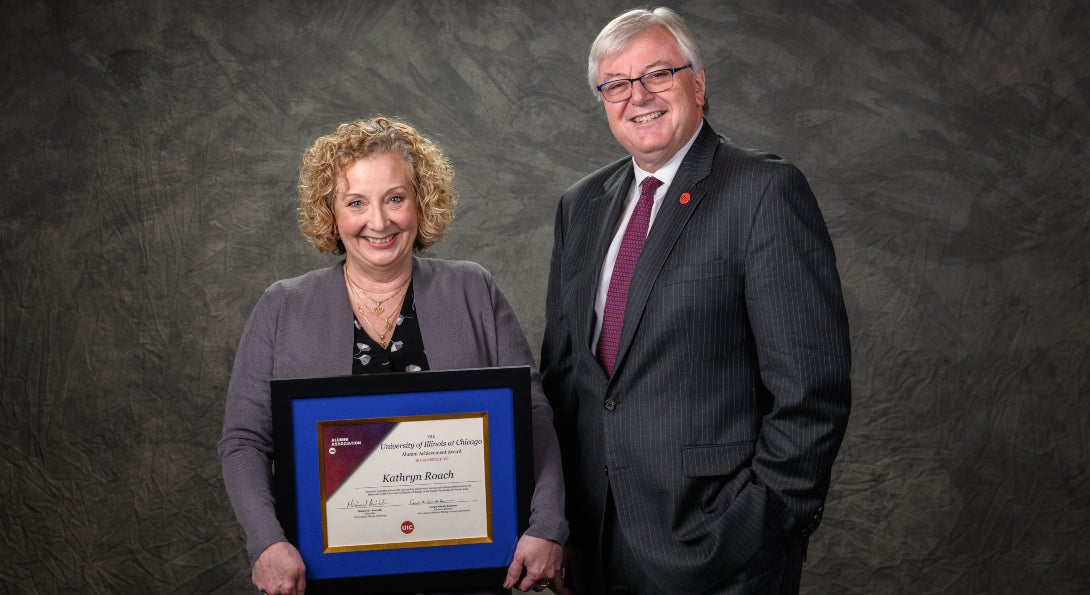 As a physical therapy professor and public health administrator, Kathryn Roach brings a healing touch to transformational research
Kathryn Roach (PhD '91) views the story of her career in physical therapy as having two interrelated chapters. And she is quick to credit UIC with playing an essential role in both. In the first chapter, she was in clinical practice for 14 years in settings ranging from the burn unit of the old Cook County Hospital to home visits as a physical therapist. "I worked with people as they fought to regain their ability to fully participate in their lives," Roach said. "It was an enormous honor." She was trained for that role in the second-ever physical therapy class offered at UIC's College of Applied Health Sciences, meeting in classrooms in an old building next to what became the Medical Library. "We watched the construction from our classroom windows, and the construction workers watched us practice our clinical skills," Roach recalled. "Little did I know that years later I would spend many, many hours in that same Medical Library doing dissertation work."
In fact, she never imagined herself leaving clinical practice, but an interest in research led to her second chapter. She returned to the UIC School of Public Health to pursue a PhD in Epidemiology. "At that point in time, the practice of physical therapy was primarily guided by the medical model of disease care," Roach said. "The theories, models and methods I was exposed to in the School Public Health expanded my perspectives on health and health care enormously. The concept of health as more than the absence of disease was totally consistent with my experiences as a physical therapist.  The idea that you could identify factors that could increase or decrease the risk of health outcomes and that those factors occurred at both the individual and population levels made enormous sense to me."
Roach was inspired by the possibility of identifying factors that could be modified to promote health and prevent disease in the context of physical therapy. Since completing her PhD 18 years ago, she says the profession of physical therapy has moved to embrace many of the ideas she first learned about in the School of Public Health. "The physical therapy profession has adopted The WHO International Classification of Functioning, Disability and Health as a guiding framework for practice," Roach said. Physical therapist researchers continue to use epidemiologic methods to produce the research evidence needed to guide practice. "I am very grateful that my education in Public Health put me on the cutting edge of important developments."
Roach learned to take a broader view of health and illness, and explored the possibilities of preventing and treating disabilities. "As much as I loved the first chapter of my career, I think I have loved the second chapter even more…. I went into academics to participate in clinical research. What I did not anticipate was how much I would love teaching," Roach said, now a professor of physical therapy at the University of Miami's Miller School of Medicine, as well as vice chair for research and acting vice chair for PhD studies.
As a clinician, she realized that physical therapists need better ways to measure patients' functional outcomes, and she has been involved in developing a range of widely used measures. She helped develop and test the Clinical Performance Index, used to assess physical therapy students during their clinical experiences. Because of skills she acquired during her PhD work, she served as the methodologist on exercise intervention studies of patients with Alzheimer's disease, spinal cord injury and lower limb loss.
Roach also attended to the restorative powers of giving back. Roach, a member of the School of Public Health's Legacy Society, has been a longtime supporter to both the College of Applied Health Sciences and the School of Public Health. She established the Donna Roach Scholarship at UIC, named for her mother's "courage and persistence." Although her mother's father thought it a waste of time and money for a woman to go to college, her mother was determined. UIC was where her parents met—both the first in their families to graduate from college.
On October 24, 2019, Roach was awarded the UIC's Alumni Achievement Award. This is the highest honor bestowed upon alumni by the University of Illinois at Chicago Alumni Association and is given to alumni who have attained outstanding success and national or international distinction in their chosen profession or life's work. Ronald Hershow, director of the division of epidemiology and biostatistics said, "It was a real honor to celebrate Dr. Roach's award with the UIC Alumni Community. She has accomplished a great deal in her career and we appreciate the many contributions she has made to the field of Public Health and Physical Therapy. This is a wonderful recognition of Dr. Roach's hard work and success and is a testament to the importance of cross-disciplinary approaches to advancing the public's health."
Modified on October 30, 2019