Mexico Fieldwork Experiences
Mark Dworkin Bio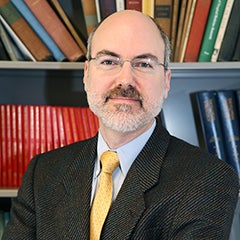 Dr. Mark Dworkin is a board-certified Infectious Diseases physician with a Master's Degree in Public Health and Tropical Medicine who was trained in the CDC's Epidemic Intelligence Service program.  As a professor and Associate Director of Epidemiology in the Division of Epidemiology and Biostatistics at the University of Illinois at Chicago School of Public Health, he teaches public health surveillance and outbreak investigation at the graduate level, consults with health departments, analyzes and publishes surveillance data, and performs and publishes HIV-related research, especially on the subject of antiretroviral adherence in young African American men who have sex with men and female sex workers.  During the Summer of 2019, Dr. Dworkin attended a conference for the International AIDS Society in Mexico City.
Mark Dworkin Blog
Mark Dworkin Blog

I've never been to Mexico City or spent any time in Mexico other than a few hours near Tijuana so both the International AIDS Society (IAS) 2019 conference and the city were interesting to see.

The conference was attended by 5000 people and took place at the Centro Citibanamex – a large convention center overlooking a racetrack and located more than 5 miles from my hotel. Although the distance was far, it allowed for interesting views of the city during the long crawls through traffic. Among the highlights of the conference was information about where the treatment of HIV is heading. There are new drugs and novel ways of delivering treatment that may lead to cost savings, smaller pill size, and better long-term tolerability. Relatively long-term follow-up (96-week) data were presented for people who have been receiving an injectable form of antiretroviral therapy (cabotegravir with rilpivirine). When licensed, injectable antiretroviral medication like this combination will allow persons at risk for and infected with HIV to have the option of getting an injection every one or two months rather than taking pills daily to prevent or treat HIV. The safety data was encouraging. Other generally relevant information that caught my eye or made news included the evolution of therapy from one pill three drug combinations to a two drug combination. These two-pill drugs have been getting licensed recently and it won't be surprising to hear about many patients who are stable on three drug regimens getting switched to these two drug pills if they are accompanied with cost savings. Also, an important antiretroviral, dolutegravir, was the subject of research that was presented at this meeting because previous research demonstrated an unacceptably high incidence of neural tube defects in infants born to mothers taking the drug. This threatened the drug's use in PrEP (pre-exposure prophylaxis) and treatment of HIV in women. However, research presented at this meeting revealed that with further study the incidence is lower than initially reported. This subject area will undoubtedly continue to be an important area of follow-up.  Also of interest was research on an implantable form of PrEP. This research was in a very early stage (Phase 1) but it is promising that there may be options for PrEP that can help overcome incomplete adherence to pills.

Mark Dworkin blog

I didn't have time to enjoy the city as a tourist as I spent nearly all of my free time working on manuscript drafts and grant research. However, I did get to walk around a nice craft market called Artesanias Cuidalela. Most of it is housed inside a walled area and there are hundreds of stalls. Also, ironically, I got food poisoning on this trip! Given that I teach about this topic and am very familiar with prevention, it was no small disappointment for me that this happened. On my flight to Mexico City, I was seated next to a senior infectious disease physician who has traveled to Mexico many times. He reassured me that the food and water at my western chain hotel (even the ice) was safe. With that reassurance, I boldly ate delicious marinated strips of meat and vegetables with hot corn tortillas and guacamole at the restaurant on our lobby floor. I delighted in the fresh cilantro, green and red peppers, and the green chile sauce. I even splurged on a glass of lemonade and didn't mind that it came with ice. It was all so good I returned there the next day since why bother going anywhere else when the food was exceptional. My second visit I sampled a chicken dish in a delicious molé that had chocolate, banana, nuts, and bread crumbs in its recipe. I made plans to return again and try something else. Being alone and feeling tired, I ended up eating all my meals at the hotel whether in their other restaurant or from room service. I prided myself on foiling the plans of the E. coli or Campylobacter that might have been lying in wait for me as revenge for all the years I had spoken badly of them to students in my outbreak class. Yet by day 3 of my 5-day visit, cramping abdominal pain began and so did other things that are unnecessary to mention. The symptoms lasted the remainder of my stay and, to put it mildly, changed my priorities. At check out from my hotel, I alerted the man working the front desk. "Where did you eat?" he asked. "At all your restaurants," I explained. "I ate twice at this one across the lobby," I said pointing to it. Then he pulled out the wild card of the trip. "Oh, that is not one of our restaurants. It is just connected to our lobby." Wow! Well – that lesson was learned the hard way.

And truth be told, those E. coli were delicious!
Sara Izquierdo Bio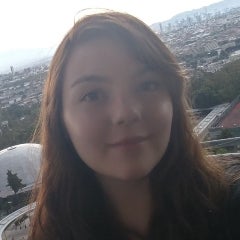 Sara Izquierdo, MPH student in Community Health Sciences with a Global Health Concentration '20, traveled to Cuernavaca, Morelos, Mexico to complete her applied practice experience at the Instituto Nacional de Salud Publica of Mexico as part of the SPH Mexico Program.  Sara is working with the guidance of Dr. Cesar Infante to learn about the health of migrants in transit through Mexico towards the United States.  As the daughter of an immigrant herself, Sara hopes to continue learning and contributing to the creation of solutions and promotion of health in a variety of ways during her time in Cuernavaca.
Sara's blog
Sara's blog post

This week there was a forum on immigration at the Mexican senate in Mexico City. I was in attendance with my PI, Dr. Infante, as expert panelists discussed perspectives and challenges surrounding migration today. These panelists came from varied backgrounds and institutions from within and outside of Mexico. However, not one panelists touched upon the topic of migrant health in any capacity much to our surprise, especially with the accusations of abuse dominating both the US and Mexican news outlets. This Friday we'll be going back to Mexico City to attend another forum at the National Institute of Immigration, where we believe the discussion will be more focused on the well being Central American and Mexican migrants.

Sara's blog post

But it isn't all work! Last weekend I took a bus down to Puebla and ate a ton of churros, cemitas, pozole, and was able to explore the colonial city, museums, and the famous Africam Safari Zoo. The buses here are relatively cheap and very accessible, so exploring more of Mexico is on my to-do list every weekend.

Sara's blog post

This week has been a lot of putting theory into practice in the office as we get ready to publish a few papers and start a few more. My PI would like to have me get into some field work in Las Casas del Migrante (Migrant Shelters) near the end of this month, so we've been listening to previous interviews and discussing informal interview tactics. I'm excited that I might have the opportunity to interview people during their migration through Mexico, towards the United States. And the discussion and practice with experienced figures in public health has really helped develop skills that I can use in the future.

Sara's blog post

Otherwise, my PI and his wife took me to eat Pozole yesterday. I'm enjoying eating out in Cuernavaca, trying foods like carnitas, tacos, pozole, cecina, chalupas, ensaladas de fruta, and so much natural ice-cream. The apartment complex I'm staying at has a beautiful dog named Maya who visits me. And this weekend I'll be going to a natural spring that's famous for waterfalls and a swimmable river with a few friends that I made here at the INSP. It's supposed to be one of the many wonders of Mexico, so I'm excited!

Sara's blog

This weekend a few friends and I went to Las Estacas National Park here in Morelos. It's a natural spring that produces tons of water to fill a 2km long river around a semi-tropical park. There were so many different types of birds and waterfowl, fish, and reptiles that we could see while swimming around. It was beautiful, and while there we ran into a few other international students from INSP who showed us an easy and cheap way ($4 for 1.5 hour travel) to return to Cuernavaca. The food was great, the water was refreshing, and it was a small paradise surrounded by fields of sugarcane and corn. If you come to Cuernavaca with SPH, you need to come here.

Sara's blog

Last week I had volunteered to create a diagram for my PI since the previous one lacked clarity and was difficult to comprehend. Today is Monday, and I got great news! His co-investigators thought it was perfect, so it's going to get published! I believe that it will be in a journal, as well as a magazine that they'll print here. So, I hope to get a copy to show to my parents. Otherwise, this week we're working on protocols, a few transcriptions and revisions, and attending meetings to discuss the possibility of upcoming field work. It should be a fun week!

Sara's post

This past weekend I took a bus to Taxco, Guerrero, a small town known as the Silver City. They had hundreds of small 'puestos' full of silver artisans and merchants where you could buy rings for as little as 2 dollars, and the ticket to get there for 3 dollars with a student ID discount. The taxis are VW beetles from the 1980s-90s, the food and fruit were delicious, and there are natural treasures spread throughout the surrounding mountains.

Sara's blog

Blue lagoons with dozens of waterfalls, caves, old silver mines, tiny wooden and rope bridges, swimmable rivers, and fruit trees all over. Avocado and lime straight off the branches for a snack.

Sara's blog

In the office on Monday, I worked on editing a paper on sexual violence with transcriptions from before. This has been great experience to learn more about the publishing process and the editorial process to produce a quality paper. Furthermore, my skills in professional written Spanish have been improving daily, with my PI noticing the change in this short time I've been here. This week has been very relaxed, with daily office work, a few meetings, and many people here getting ready for vacation. This upcoming weekend I'll be going to Oaxaca, one of my favorite places in Mexico, and the state with the best cuisine, to get a bit of my own vacation.
Margaret Gallagher Bio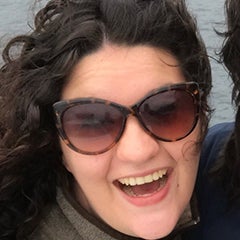 Margaret Gallagher, MPH in Community Health Sciences '18, traveled to Cuernavaca, Mexico as part of the SPH Mexico Program to complete her practicum experience with the Institute of Public Health of Mexico.  She focused on the study, intervention and outreach of Human Papillomavirus.
Margaret Gallagher's Blog
Margaret's blog post

I am currently on day three of having dinner cooked for me by new friends in Mexico. No offense to Chicagoans, but I have never experienced hospitality like this in my life. Nearly everyone I've met has offered to have me over to their house, or to have a coffee or dinner. I am especially grateful for these invitations since I am in a country where I don't know anyone and am not fluent in the language. This extreme hospitality also has the added effect of making me feel like an imbecile in this category, all of my manners seem to pale in comparison. Is bringing a store bought dessert over enough or should I learn to make soufflés?

There have been a lot of things to get used to in Cuernavaca, and it is hard to not compare things here to Chicago. This is particularly true with elements of public health, since I have only studied and worked in public health in Chicago. One thing I find interesting is the diversity of types of homes in the neighborhoods. In Chicago, health related statistics are often recorded by neighborhood. There is a large amount of variability in these statistics, even between neighborhoods that are only a few blocks or miles apart. In Cuernavaca, the neighborhoods have a variety of types of homes. Often, you can assume the social status of the owner based on the amount of security. Gate, barbed wire, and a guard dog? That's a newer home. However, these home are next to smaller homes with less security, and down the road there are tin roof houses with just a fence. Eventually the road is unpaved and the tiny homes just stand in the middle of a grassy patch. It seems as though it would be harder to develop generalized statistics about the people living in these neighborhoods, because they have such different lifestyles and accessibility to health care services.

Another part of the equation is the source of income for many of the people in Cuernavaca. The streets are lined with tiendas with people offering various services and goods. There are little shops for groceries, clothes laundering, and plenty of homemade foods. There are also lots of people who will set up tents or tables to sell food or artisanal goods on the street. There are also markets set up daily or weekly where people gather to sell their goods. Many of these people receive health insurance through Seguro Popular, which is public health insurance funded by national and state governments. This health insurance is used mostly by people who are self-employed or who work in the informal sector. It is also a requirement for the project that I am working on that the patients use Seguro Popular insurance, since this sector of people may be less likely to have received regular Pap smears and HPV tests in the recommended 3 year intervals.

Economic standing is very important in understanding the health and wellness of a population, and low economic standing is a deterrent to access to health and wellness services. I am very interested to learn more about the other barriers to effective healthcare in a society that offers public health insurance and is moving towards universal coverage, since there are still obstacles to overcome to ensure this often-marginalized group receives fair and effective medical treatment.

Margaret's blog post

My first week in Cuernavaca is coming to an end and it has been quite the whirlwind. I have been very fortunate that this first week has been filled with meeting wonderful people and experiences that I know will be helpful for my future career in public health. Although there have been bouts of homesickness and the language barrier has led to an embarrassing amount of time on Duolingo and watching How I Met Your Mother in Spanish, I know I'm having an experience that will be beneficial for years to come.

The first week here was packed, with the first day including an overview of the project I'll be working on and an extensive tour of the lab where they test samples. This project is currently recruiting 10,000 participants who will be screened for HPV. If they are positive, then they will be asked to participate in 18 months of follow-up. The laboratory we toured explained the various processes that the samples go through to determine if they are positive for HPV and particularly for strains 16 and 18, which are linked to cervical cancer. Each team member gave incredible detail about the process that they use for testing the samples, and then reassured me that no, I would not be responsible for anything that technical during my time there. It was a huge relief.

Wednesday and Thursday included site visits to a local health center where nurses from the Instituto Nacional de Salud Publica are recruiting participants for the study. On Wednesday, we went door to door in the neighborhood, asking women if they were eligible and interested in participating in the study. This was a fascinating experience from a public health perspective because the women we talked to were so willing to discuss their medical history with unknown medical professionals who showed up at their door. It was also interesting as a traveler to get to see a neighborhood and the different kinds of homes and living situations.

Thursday, I went with the nursing team as they went to the homes of women who had participated in the study and received an abnormal Pap smear result. We went to their homes to inform them and ask that they continue participation in the study by coming in for a colposcopy. Since the nurses suspected that a lot of the women wouldn't show up for the exam, they were all given the same appointment time. This has been one of the most interesting things to see, how difficult it can be to reach people for follow-up for their appointments. The solution is just going straight to the source in their homes to make sure they receive the results of their examination.

It is incredible how many new experiences I've come across in just this first week in Mexico. Now it's off to Acapulco, hasta luego!
Celina Garza Bio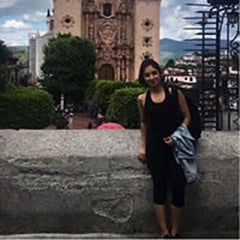 Celina Garza, MPH student in Community Health Sciences '19, traveled to Cuernavaca, Morelos, Mexico to complete her applied practice experience at the Instituto Nacional de Salud Publica of Mexico as part of the SPH Mexico Program. Celina's applied practice experience focuses on the social determinants of health that impact vulnerable communities. She completed a feasibility analysis incorporating health workers with indigenous backgrounds into the existing health services that focus on sexual and reproductive health in multiple states.
Celina Garza's Blog
Celina's blog post

For the past two weeks I have been completing my field experience at the National Institute of Public Health in Cuernavaca, Mexico. It has been existing getting to see how projects come to be and are coordinated across multiple states. Last year in multiple classes we talked about the obstacles that public health researchers face in the US. My preceptor has also faced similar issues, which is not surprising given that her focus is on communities that have often been marginalized by society. I am excited to continue advancing on my project, specifically key stakeholder interviews, and to learn from my preceptor and peers.

.Celina's blog post

As I got a tour of the institute there is still visible damage from last fall's earthquake. Multiple people have shared their experiences with me and many say the irony of it all is that the earthquake happened hours after they had just practiced an earthquake drill. Even with the damage that is still being worked on, the institute is constantly buzzing. I am also lucky enough to have my own working space on the same floor as my preceptor (space is very limited!). One of my favorite parts of traveling is of course- the food! Cuernavaca has so many great options that are super affordable. The streets are lined with restaurants, quick street food tents, and the mercado , which along with fresh produce, is full delicious hot food – like this tlacoyo! This is one is made of blue maize masa that is oval shaped and then stuffed with a filling of your choice- I picked fava beans- cooked on hot comal and then topped with nopal (cactus) salad, cheese and salsa.

.Celina's blog post

Street food

.Celina's blog post

You also can't visit Mexico and not indulge in some fresh churros topped with dulce de leche!

.Celina's blog post

Cuernavaca is also filled with so many sculptures and greenery. One of the most beautiful spaces in Cuernavaca that I have seen so far is Jardin Borda. It was once home to Maximilian I, one of Mexico's only emperors, and his wife Carlota.

.Celina's blog post

Statue

.Celina's blog post

Another statue

.Celina's blog post

More statues!

.Celina's blog post

Along with spending time at the INSP and meeting other researchers, I have also met students from throughout Mexico, the US, Panama, Ethiopia, and France- just to name a few. Learning about their projects, backgrounds and site seeing with them has been a blast!

Celina's blog post

Things have been busy at the INSP. I have been identifying key stakeholders for the states of Chiapas and Chihuahua. Navigating the different state's websites proved to be more challenging that I originally thought. Given that the health system is decentralized, what and how each state displays information will vary, which does not make it user friendly for someone trying to quickly capture information. I have also been traveling outside of the INSP to conduct key stakeholder interviews for the state of Morelos. One interview took place in a center that practices traditional medicine. The center was beautiful and they had a traditional temazcal, which translates into "house of heat."

.Celina's blog post

In the field

.Celina's blog post

During the weekends I have taken some time to visit some cool sites. I first went to the Grutas of Cacahuamilpa. These are ancient caves that are some of the largest cave systems in the world and have been in inhabited by the Olmec and the Chontal tribes. Something that sets this cave system apart is that it is still "alive" and new stalactites and stalagmites are still forming. Our tour lasted a little over two hours and throughout the tour, our guide would point out what different formations look like. This one is supposed to resemble a champagne bottle.

.Celina's blog post

Exploring caves.

.Celina's blog post

This picture above shows a formation that is said to look like Goofy. Our guide also told us that he was inside the caves during last year's earthquake and that he felt perfectly safe in them. Aside from being closed for a few days, the caves did not suffer any major damage from the earthquake.

Afterwards we drove to Taxco, Guerrero. Taxco is known for its silver mining and silver craftsmanship. After enjoying the scenery over lunch we toured the local church, which has a completely silver Virgen de Guadalupe that was blessed by Pope Francis during his visit to Mexico. We then looked at all the artesanias de plata (handmade silver work) and walked around Taxco's center.

.Celina's blog post

Traveling around Mexico

.Celina's blog post

In Taxco

.Celina's blog post

Of course I can't not mention the World Cup! Although Mexico is now out, it has been a blast watching the team with my host family and other students! Go Mexico!

.Celina's blog post

Watching the World Cup!

Celina's blog post

One of my Saturday's was spent exploring Mexico City's Coyacan neighborhood. Coyacan was once home to Frida Kahlo and Diego Rivera, and their home has been converted to a museum known as "La Casa Azul." Although it is small, it is definitely worth visiting! I also highly recommend purchasing your tickets online because the ticket line can get pretty long! The museum has a range of artwork, art materials, and personal items like her clothing, along with views into her kitchen, bedrooms, library, and garden.

.Celina's blog post

Frida Kahlo Museum

.Celina's blog post

Frida Kahlo

.Celina's blog post

Also, with the purchase of a ticket you get free entrance to Diego Rivera's Museo de Anahuacalli, which holds over 50,000 items from indigenous civilizations and is a pretty amazing building. What I found super interesting, and what most archeologists would probably find really frustrating, is that the way the items are organized is not by time period or even by civilizations, rather by what Diego Rivera thought looked good together. This is definitely not a typical museum!

.Celina's blog post

Clay sculptures

.Celina's blog post

While in Mexico City, I saw something I had never seen before- women only (and children under 12 yrs) carts as part of the subway system. It was pretty amazing to see that this is something that is actually enforced. Although I definitely did feel more relaxed and comfortable in these carts, and it's great that the city has set up this policy, it also speaks to the fact that there have been so many attacks on subway carts that this separation is now necessary.

.Celina's blog post

Women and children-only transit.
Jasmin Sanchez Bio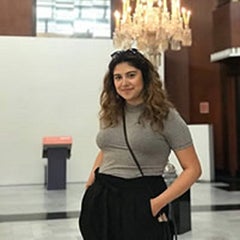 Jasmin Sanchez, MPH in Community Health Sciences '19, completed her applied practice experience at the Instituto Nacional de Salud Publica in Cuernavaca, Mexico as part of the SPH Mexico Program. She examined the social determinants that lead to the high rates of teen suicide in six states throughout Mexico and co-published reports in each state.  Her travels in Mexico included visiting the Pyramids of Teotihuacan, La Gruta, Palacio de Bellas Artes and the Frida Kahlo Museum.
Jasmin Sanchez's Blog
Jasmin's blog post

After the first day of my stay in Mexico City I went to Palacio de Bellas Artes. The exhibits that I say were very goth and the theme was "hibreras", I want to say it is a mythical creature that has horns and flies (basically a devil). The second floor also has large murals. One famous mural by Diego Rivera is Man at the Crossroads. There is also a very powerful mural of an indigenous woman who is naked and is being chained. Though the palace is very large the exhibits themselves were small and can be toured in an hour or so.

Jasmin's blog post

The second day I went to the Frida Kahlo Museum in Coyoacan. I will say that if you plan on going bring your student ID! You can pay either 15 pesos with a student ID, or 200 if you don't. You also have to pay in order to take pictures inside the house… I didn't, so there is a picture of me standing outside the house instead. The house is beautiful and has many rooms. You get to see where Diego and Frida slept, the kitchen, where Frida would paint, etc. There is also a small exhibit of Frida's clothes as she was a fashionista and some designers also have clothes inspired by her. The house is very vibrant and apparently Frida and Diego would have guests stay at their home all of the time, the house was never empty.

.Jasmin's blog post

Frida Kahlo Museum

Jasmin's blog post

I found a super cute coffee/library spot in La Roma Neighborhood. There is also a small terrace where you can purchase drinks. I knew I wanted a book so I went with a classic poetry book by Emily Dickinson. La Roma is a beautiful neighborhood with a lot of shops and parks nearby. I also went to Parque Espana and rode a bicycle around for a little bit.

Jasmin's blog post

In Roma Sur there is an adorable coffee shop, called Alma Pura, where they sell a lot of healthy options. After eating tacos, quesadillas, huarches…. I was craving something healthy. I had a sandwich the first day and then I had vegan pancakes the next day. I also had an immune shot which was a shot of ginger, orange and pollen seeds. The prices of this place are cheap, roughly $4 for a meal. Surprisingly, eating out at a restaurant in Mexico City is expensive. A plate of food is about $7-8, which is about what you pay to eat in a Mexican restaurant in the U.S. The cheapest way to eat here are the street vendors since you can eat for $1-2. However, most likely they don't have chairs.

Jasmin's blog post

I went to Las Piramides de Teotihuacan which was an hour away from Mexico City. The pyramid in the picture is the pyramid of the sun. There is also a pyramid of the moon which was smaller and west of this pyramid. This pyramid has very steep stairs. There is a rope that you can hold on to once you are half way there. There is a line to go to the top of the pyramid once you hit the middle because there are so many people. Advice for those climbing this pyramid would be to wear sunscreen and bring a cold water bottle because you will get hot. Coming down is scary because the stairs are very steep. I held on to the rope the entire way down. Once you get down there are a lot of vendors so you will want to use your bartering skills because they definitely up-charge. A trick I learned is to aim low, pretend to walk away and they will usually settle for you price.

Jasmin's blog post

My friend and I went to a restaurant called La Gruta near the pyramids. I will say there is typically a long wait. We waited for about an hour which wasn't the worst. The restaurant is basically under a cave and there are many dim lights and colorful chairs. We got lucky and got to see performers at dinner time. They had various dances and had costume changes in between. The food is a bit on the pricier side but it is so good! If you get a chance to eat here I recommend it, it was a great experience.

Jasmin's blog post

Recently there has been a movement in Mexico city where public transportation is pink to increase female safety. There were many incidents reported of women being sexually assaulted on their commute, so the city decided to have transportation for women only. There are pink cabs, buses and there are pink train carts. Though this is a step in decreasing violence against women, there should be policies in which the perpetrators are being punished for their actions. Also, in my opinion, pink is a cliche color option for this movement. Below, you will see what one of the pink taxis look like!

Jasmin's blog post

The first week in Cuernavaca was pretty lonely and at times it still is. I decided to invest in myself this summer instead of feeling down. I am trying to do things that I enjoy such as reading and painting again. I have been working on my resume and looking at jobs. At first I was distressed simply because I was not constantly doing things. I think we are so used to having a million things due and living a fast pace life. Its okay to do nothing and to sit in silence. We are constantly being stimulated and technology heightens that stimulation. Something that I have learned in my short time here is enjoy the down time. You don't always have to be doing something and multitasking.